IEA International Computer and Information Literacy Study (ICILS)
ICILS was designed to respond to a question of critical interest today: how well are students prepared for study, work, and life in a digital world? The study measures international differences in students' computer and information literacy (CIL) – an individual's ability to use computers to investigate, create and communicate, in order to participate effectively at home, at school, in the workplace and in the community.
ICILS assesses CIL and computer use in students in Grade 8 (or its national equivalent), and participating countries have the option to also assess computational thinking. The study also collects rich contextual information at the student, school and system level in which CIL is developed, providing education systems and policymakers with valuable information about the efficacy of CIL education programs.
The Australian Council for Educational Research designed and implements the study for the International Association for the Evaluation of Educational Achievement (IEA).
Download the ICILS 2018 Assessment Framework.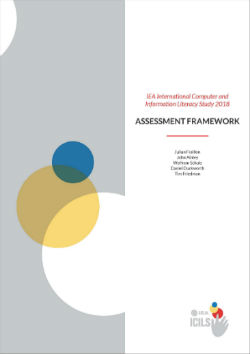 ICILS 2018
The ICILS 2018 International Report will be released by the IEA at 10am EDT on 5 November 2019 (2am AEDT, 6 November 2019) and the launch will be livestreamed. Find out more, or sign up to receive the release or join the webcast.

Education systems taking part in the 2018 cycle are: Chile, Denmark, Finland, France, Germany, Italy, Kazakhstan, Korea, Luxembourg, Portugal, Russian Federation (Moscow), Uruguay and the United States. Australia did not participate. ICILS 2018 is directly linked with the previous cycle in 2013, allowing participants to assess their students' performance over time.
This brochure gives an overview of the ICILS 2018 cycle. For more details on the computational thinking component of ICILS 2018, please see this leaflet. The IEA ICILS 2018 website is the most comprehensive source of information.
Still have questions? Contact the ACER Communications team in Melbourne, Australia:
+61 (0)3 9277 5582 | +61 (0)419 340058 | communications@acer.org.